Cyklop Pressure Sensitive Tape Dispensers
SAE-75 - Automatic

The SAE 75 is an electrical tape dispenser for self-adhesive tape, and operates with all self-adhesives tapes that are commercially available.. It replaces the Babymatic and Babymatic Clear.

Characteristics:

Processes all self-adhesives tapes
Display for length selection
Automatic cut-off device; Dispense tapes automatically in the pre-selected length
Double insulation
Steel frame with painted, honed and galvanized parts protect against corrosion
Small and Compact

Get Literature

Get Press Release

List Price: $1,895.00

Baby Umet 75 - Semi-Automatic
Side view of machine with 3" wide paper tape - The dispensed length remains in the machine until the operator takes it, cutting it against the stationary blade.

FUNCTIONS

Preset length from 2" to 52"

Random measure from 2" to infinite

Repeat mode: length shown on dial is repeated automatically as the one dispensed is cut off.

Get literature

Front view showing red light electronic safety.

Red light flashes when blade is unlocked and ready to cut. The safety can be programmed from 10 to 60 seconds (factory setting)

The BABY 75 cuts when the tape strip is lifted against the stationary blade. Blade guard is locked after cutting, to prevent accidental injury to operator.

SPECIFICATIONS

Dimensions:
6.1"x10.6"x8" approx.
Weight:
13.2 lbs
Roll capacity:
OD 7.4" - ID 3"
1"- 1.25" - 1.5" optional
Tape width:
3" max. ½" min.
Power supply:
110V/60Hz

SUGGESTED PRICE

C-25 Electronic Gummed Tape Dispenser
Cyklop's electronic gummed tape dispensing machine make carton sealing easier than ever before. Easily programmed with the tape lengths you select, Cyklop dispensers take the guess work out of carton sealing. They make packaging easier, provide labor savings and make for a neater carton.
Superior glue activation is the key to a more secure, better looking package. The C-25's top heater warms the brush tip, water and tape as the tape is fed. Thorough, uniform moistening, for the longest of shortest tape length, assures a perfectly sealed carton.
Precise feed length measurement using the C-25's new electronic length control system provides the exact tape length selected for efficient tape utilization and a smart looking package.
Convenient and easy to clean keypad controls provide easy operator access, reducing labor and maximizing output.
Large capacity water tank eliminates the need for frequent refilling.
Tape feed rates of 30 inches of tape per second can keep two operators busy
Corrosion resistant materials provide years of dependable service.
Handles any gummed tape 1" to 4" wide and cuts lengths from 4" to 44"
Front loading design eliminates need for moving or providing rear access to dispensers even when changing tape rolls.

The C-25 is a great choice for electronic tape dispensers, whether you have identical box sizes, or they change constantly. This compact machine handles plain or reinforced gummed tape from 1" to 4" wide. It is designed for continuous operation. The motor, heater and control circuits all operate on 24 Volts DC. There is a AC line operated and battery version. The soft touch keyboard is waterproof. This dispenser is covered by a 2-year warranty.
FUNCTIONS:
Pushbutton switches for 22 fixed lengths, from 4 to 44".
Green button for random lengths,
Blue button to repeat last setting
Top heater included
SUGGESTED PRICE
Get literature on the C-25 and C-25 battery version.
B-6 Manual Gummed Tape Dispenser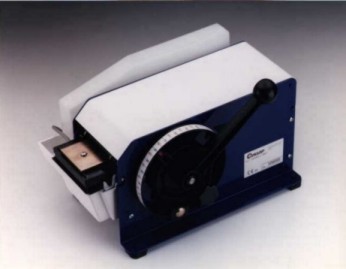 Designed for the low volume user - up to 50 cartons per day - the B-6 is equipped with two scales for pre-selected long and short tape lengths. Tape of selected length is dispensed, moistened and cut by means of a simple hand lever.
The double moistening brush with variable water level and pressure plate guarantees optimal tape moistening for secure carton sealing. A large capacity water tank eliminates the need for frequent refilling. Possibly the longest single lever stroke tape dispensing in the industry - up to 42" - repeated lever strokes can provide even longer lengths.
The optimal HC100 heater kit is available for field addition to provide more efficient glue activation even in cool packing and shipping area environments. This type of heater is standard on all electronic models.
Get literature
SUGGESTED PRICE
CYKLOP GUMMED TAPE DISPENSERS

| DESCRIPTION | STOCK NO. |
| --- | --- |
| B-6 MANUAL | TD-B-6 |
| C-25 ELECTRONIC | TD-C-25 |
| P110 TAPE MACHINE CODER | TD-CODER |
| BLACK INKING ROLLER | TD-BK-IR |
| RED INKING ROLLER | TD-R-IR |
| BLUE INKING ROLLER | TD-BL-IR |
| GREEN INKING ROLLER | TD-G-IR |
| VIOLET INKING ROLLER | TD-V-IR |
Return to top
Return to abm marking
abm marking ltd
2799 South Belt West
Belleville, IL 62226 USA
Phone: (618) 277-3773
Fax: (618) 277-3782
This page written by Roger Schaefer in May, 1996
Updated February 2012