ajet 101 Ink Jet Printer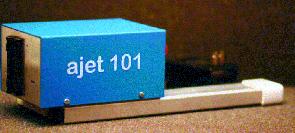 The ajet 101 is a D.O.D. ink jet printer which will print one line of 7x5 or 5x5 matrix characters. 255 text messages can be prerecorded; dates, time, Julian dates, work shifts, and consecutive numbering can all be imbedded into the text messages. The print can be reversed and/or printed upside down allowing complete freedom of placement of the heads on the conveyor line in any position.
All functions of the ink jet printer are programmed via a RS-232 interface. The print heads can be mounted to conveyor lines in various ways.
The ajet 101 can print on a wide range of absorbent or non-absorbent surfaces. abm supplies a variety of inks for most any surface. The new ajet 101/S can also use MEK and ethyl acetate solvent based inks.
The ink can be supplied from various size containers ranging from a ˝ liter to five gallons. Air pressure can be supplied from factory air or from independent air systems available from abm marking ltd.
In the photo to the right is seen an ajet 101system with the printer, a one gallon "Bag-in-a-box" of ink, a Deluxe air compressor with LED pressure display and fittings.
Specifications
Electrical Requirements: 110 volt 60 Herz power
Sensing Device: Photocell
Print Heads: One
Character Height: 15, 20 or 28 mm in a 7 dot matrix. (20 mm standard)
Ink: abm Ink Jet Porous, Ink Jet Non-Porous and SAFEMARK® Ink Jet (MEK and ethyl acetate solvent based inks with ajet 101/S version).
Ink Consumption: It is a meaningless data because of the wide variety of conditions that may be experienced. In one controlled test 1,800,000 characters per gallon were printed.
Character Fonts: 64 character ASCII set
Message Capacity: 255 messages of 60 characters each. Data is stored in a serial EEPROM
Interface: All functions a programmed via a RS-232 interface to almost any computer or hand held terminal. However, all electronics are within the printhead and once print parameters and messages are entered the ajet 101 does not need to be connected to a terminal.
Read some ajet 101 Case Histories.
Some nice literature: ajet 101 Ink Jet printer also mounted in a case handling system.
See also the 16 dot ajet 116
ABM Price List
Return to top of page
Return to abm marking

This page written by Roger Schaefer in May, 1996
Updated September, 2011